EGLOBAL Mini Computer Fanless Noiseless Mini PC i7-7560U 2 DDR4 Msata M.2 SSD Micro PC Win10 Pro Audio-video Center NUC VGA HDMI

Main advantages of
EGLOBAL Mini Computer Fanless Noiseless Mini PC
:
1. Small size: all EGLOBAL Mini Computer Fanless Noiseless Mini PC smaller than A4 paper, some of them only 3.5inch size, just like the HDD sized using it traditional fat computers. Most of those small sized mini pc can be mounted to the backside of monitor, and takes almost no space of your desk, make your desk more clear and smart.
2. Durability: all those EGLOBAL Mini Computer Fanless Noiseless Mini PC are highly intergrated, fanless design makes it runs silent and no need extra maintenance like normal fat comptuters. And most of them using aluminium alloy computer case, very durable.
3. Low power: all the EGLOBAL Mini Computer Fanless Noiseless Mini PC using 12V power supply, most of them power consumption from 15W to 30W, compare to 150W traditional pc's consumption, it helps saving more than 80% energy.
4. Universal performance: EGLOBAL Mini Computers compatible with almost all popular operating systems, such as Windows, Linux. You can use it as personal computer at home, or use it as HTPC to built your own home theater center, and also you can use it in offices, training centers, factories, internet cafe and everywhere that require computers.
EGLOBAL Mini Computer Fanless Noiseless Mini PC Features:
- Special: Support 64 bits computing Turbo boost Hyper-Threading Visualization technology etc, Can install 1pc 2.5'' SSD or HDD and 1pc MSSD(5CMx3CM) together(welcome to contact our Pre-Sales if you need it) up to 512GB SSD or 1TB Hard disk large volume; You can enjoy RAID speed Max up to Gigabit per second;
- Stable: Newest Intel Core i5 6500U+Skylake structure+Intel Graphics HD 520+Fanless professional passive cooling by alloy case, be able to work 24hours per day;
- Slim: Only 45mm body thickness, can stand on desk by free bracket we supply, 210*175*45MM slim case size;
- Smooth: High-end Intel Graphics HD520 up to 1GHz, fight again dedicated Graphics! Support all online games, big 3D games, large-scale mapping software, blu-ray and 4K Ultra HD streams, full 1920*1080 HD resolution, 2*HDMI dual monitor display;
- Hi-Fi: High-end Audio card ALC 897 chip, 1*optical port audio output, support 7.1 channel Sound, Intel Lynx Point-LP HDA;
- Strong: Work with any brand monitors; 1*RJ45 Gigabit Lan Nics+1*HDMI+1*VGA+4*USB3.0+1*USB2.0+1*SD Card port Suit for multiple application for example integrate with touch devices, industries, car repair shops, security, education, home as HTPC, business, fanatical and projects;
- Low-carbon green: TDP only 15~28W, very economical, saving a lot energy every year, low consumption but with a very amazing performance. Surface temperature is about 51 degree when the PC work normally.
EGLOBAL Mini Computer Fanless Noiseless Mini PC
Key Features & Benefits:
CPU: Intel® Core™ i7-76500U Processor (4M Cache, up to 3.80 GHz);


RAM: Support 4GB/8GB/16GB/32GB, Dual Channel, DDR4-2133, LPDDR3-1866, DDR3L-1600 laptop memory;



Storage: Support m.2 SATA and SATA SSD; 2.5 inch laptop HDD; Can install 1pc HDD(2.5 inch) and 1pc SSD(mSATA 3.0) together;

Graphics: Intel® Iris® Plus Graphics 640, support ultra HD 4K resolution;

I/O: 1* Switch On/Off, 2*LED, 4*USB3.0, 4*USB2.0, 1*SD Card Reader, 1 * Optical, 1*SPK, 1*MIC, 2*LAN port(RJ-45), 1*DP, 1* HD, 1* DC IN;


Operating System: Windows 7, 8, 10 & Linux Compatible, default OS with the mini pc is Win 10, leave order message if any special requirement;

Wireless: 300MB WiFi with 2 Antennas, optional;

HD Out put: 1*HDMI port+1*DP port,, support 4k output, support HDMI+DP dual display;


LAN port: 2 Gigabit RJ45 port speed up to 1Gbps;
EGLOBAL Mini Computer Fanless Noiseless Mini PC Specifications:
CPU

Onboard Intel Core i7-7560U 2.4GHz Max 3.8GHz(Turbo boost Technology) Dual Core Four Thread

CPU FSB

100MHz

CPU Technique

14nm

L1 Cache

2×32KB

L2 Cache

2×256KB

L3 Cache

4MB, CPU Integrated

MMX, SSE, SSE2, SSE3, SSE4.1, SSE4.2, AVX

BOIS

AMI BIOS, ACPI supported

Support Auto power on

Chipset

Intel Kaby Lake

Memory

2* SO-DDR4 SDRAM Slot

Support 4GB/8GB/16GB/32GB

Dual Channel, DDR4-2133, LPDDR3-1866, DDR3L-1600

Storage

1*MSATA SSD: 8G/16G/32G/64G/128G/256G/512G/1TB

1*SATA HDD: 160G/320G/500G/1TB

Operating System

Windows 7/Windows 8/ Windows10/ Linux

Audio

ALC892 chip, 6 channel sound, Intel Lynx Point-LP HDA

Network

Onboard RTL8111DL PCI-E Gigabit Ethernet NIC

Onboard RTL8111DL 10/100Mbps/1000Mbps BaseT LAN

Video

Intel® Iris® Plus Graphics 640

I/O port

front panel ports

1* Switch On/Off, 2*LED, 2*USB3.0, 2*USB2.0, 1*SD Card Reader, 1 * Optical, 1*SPK, 1*MIC

Backside ports

2*USB2.0, 2*USB3.0, 2*LAN port(RJ-45), 1*DP, 1* HD, 1* DC IN

Internal ports

1*M.2 port, support 6Gb/s

1*M-SATA3.0 port, support 6Gb/s

1*SATA3.0 port, support 6Gb/s

1*mini PCIE-half port for Wi-Fi module

1*mini PCIE-full port for 4G module

Expansion slot

Embedded SIM card slot(optional)

Power and Working Environment

Input

DC100-240V AC/50-60Hz

Output

DC 12V~19V/5A

Operating Temperature

0/70 Centigrade(32F~140F)

Storage Temperature

-20/+80 Centigrade

Relative Humidity

0%~90% (non-condensing)

energy-saving

Support Energy-saving technology, Speedstep

64 bit computing

Support 64 bit computing

virtualization

hyper-threading

Support Hyper-Threading

Product Dimension & Details

Size

210*170*45mm

Net Weight

1.5kg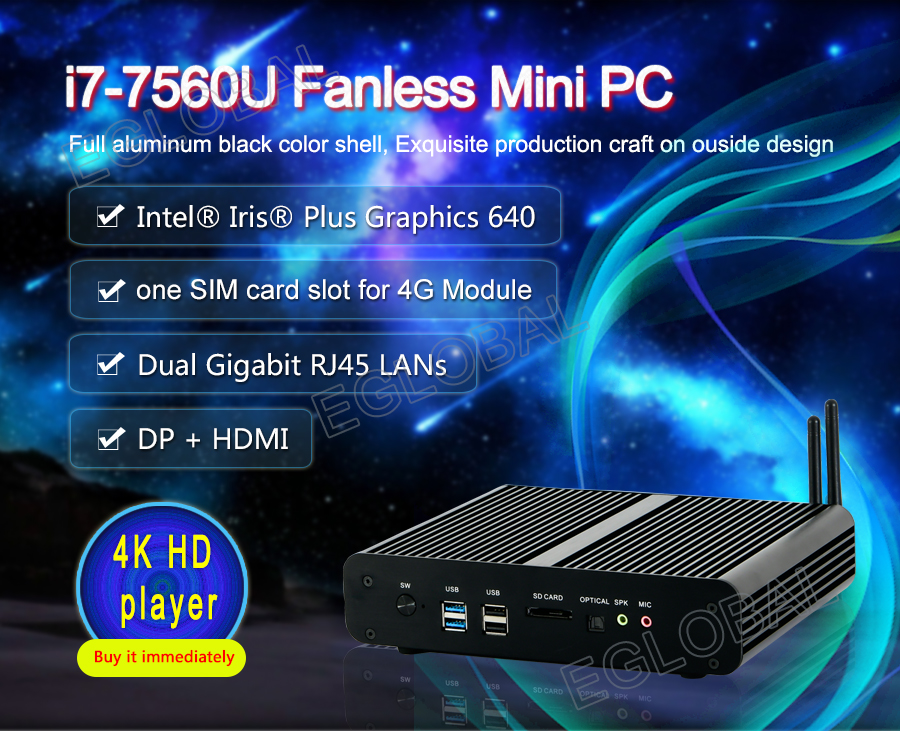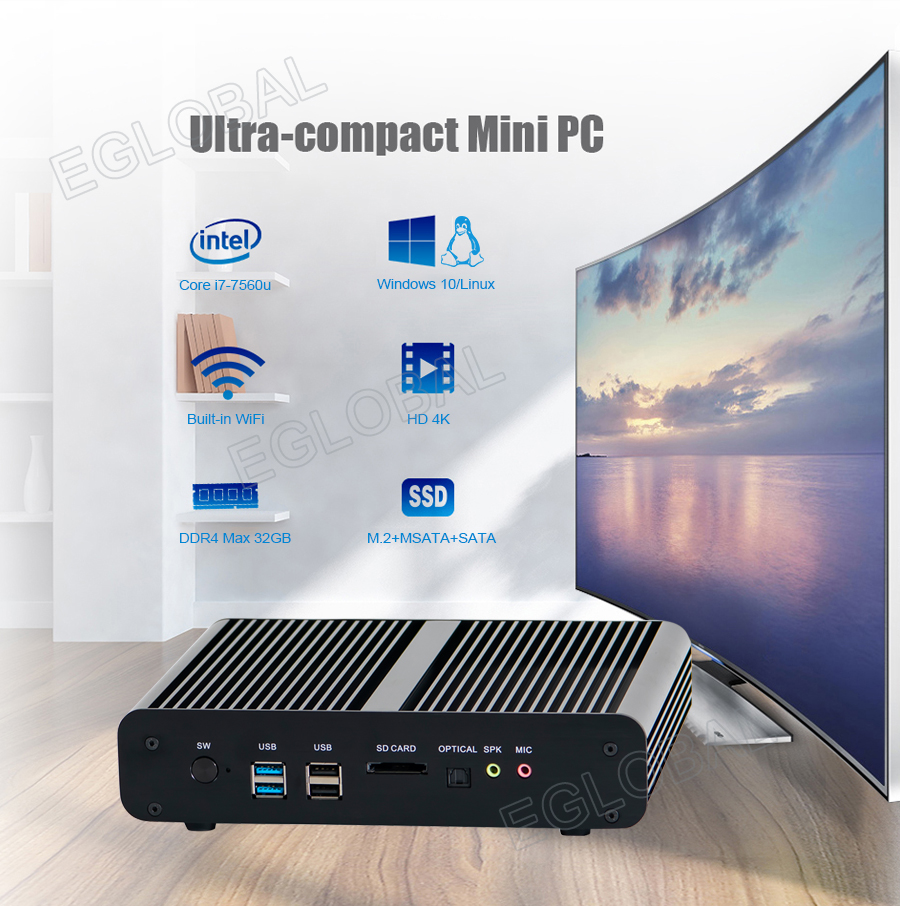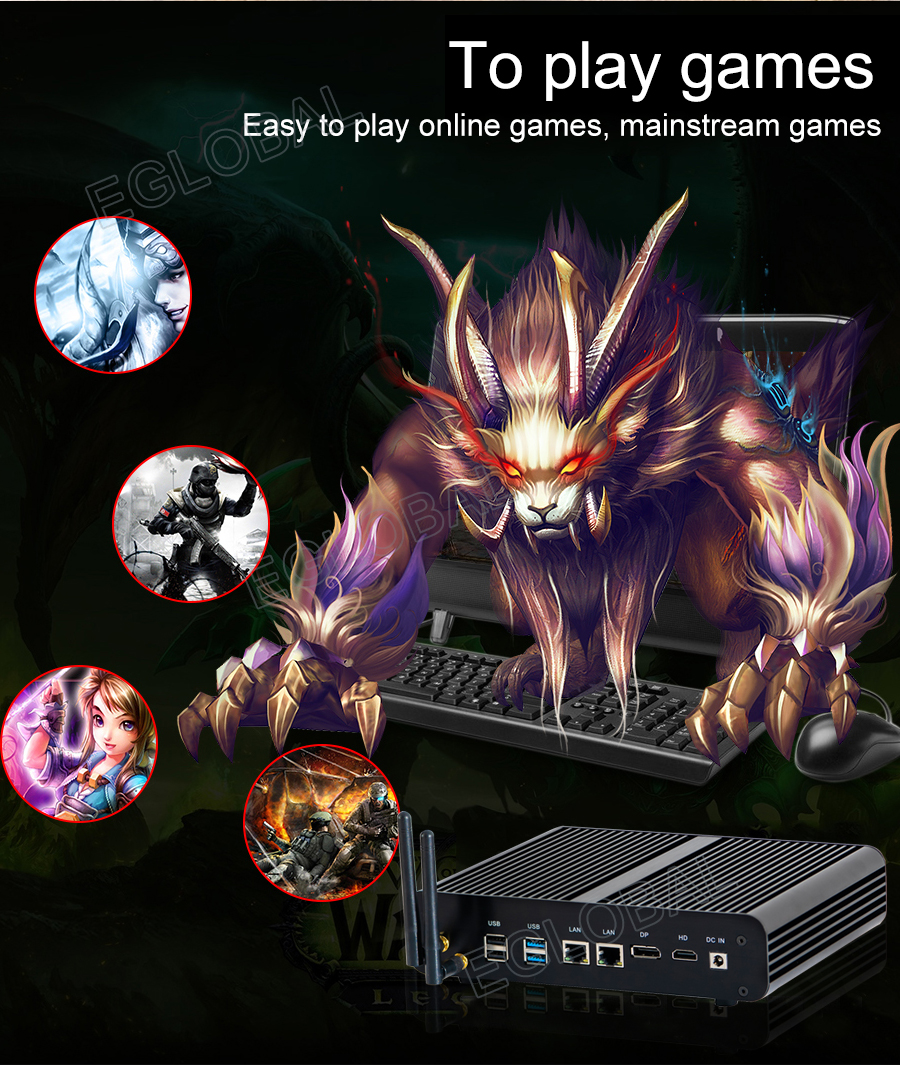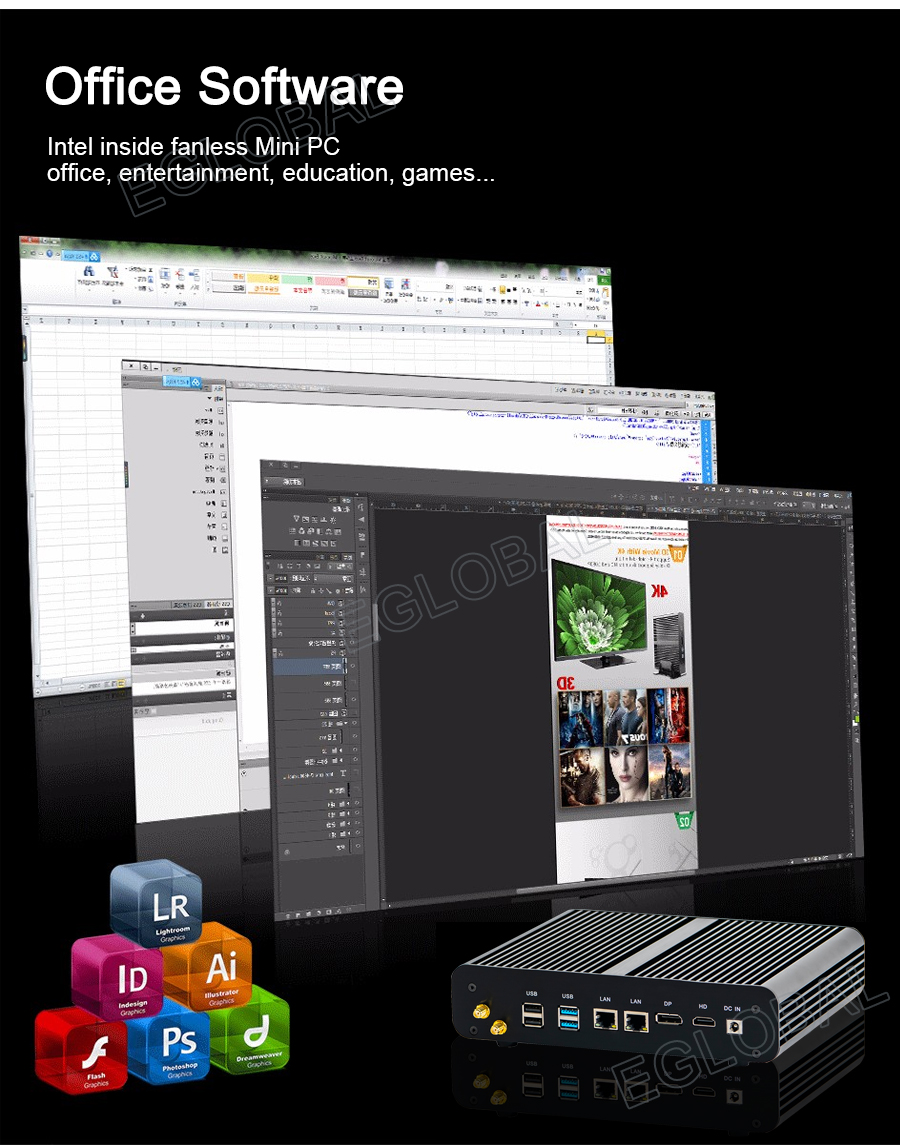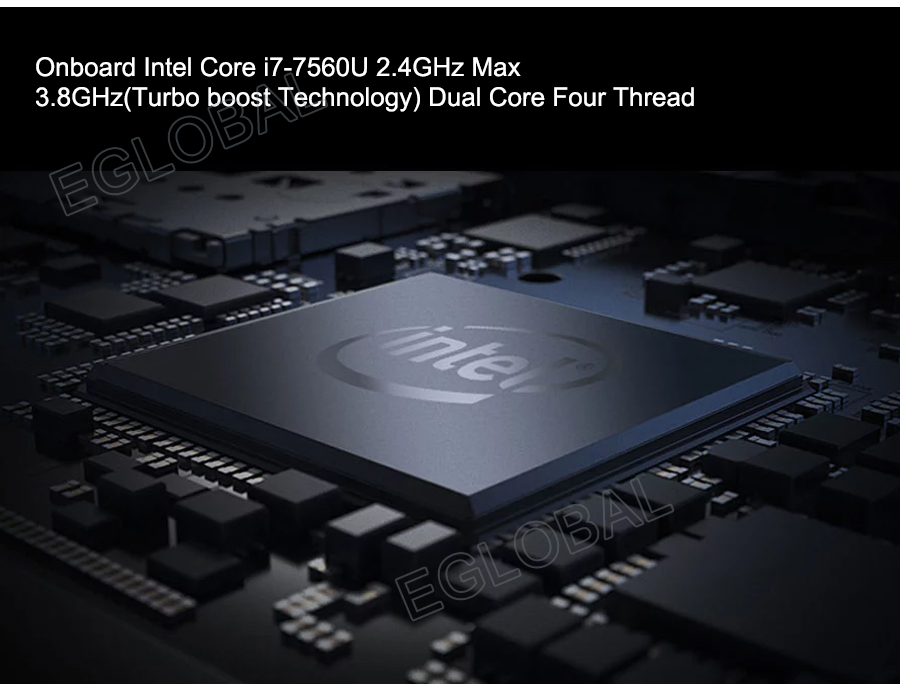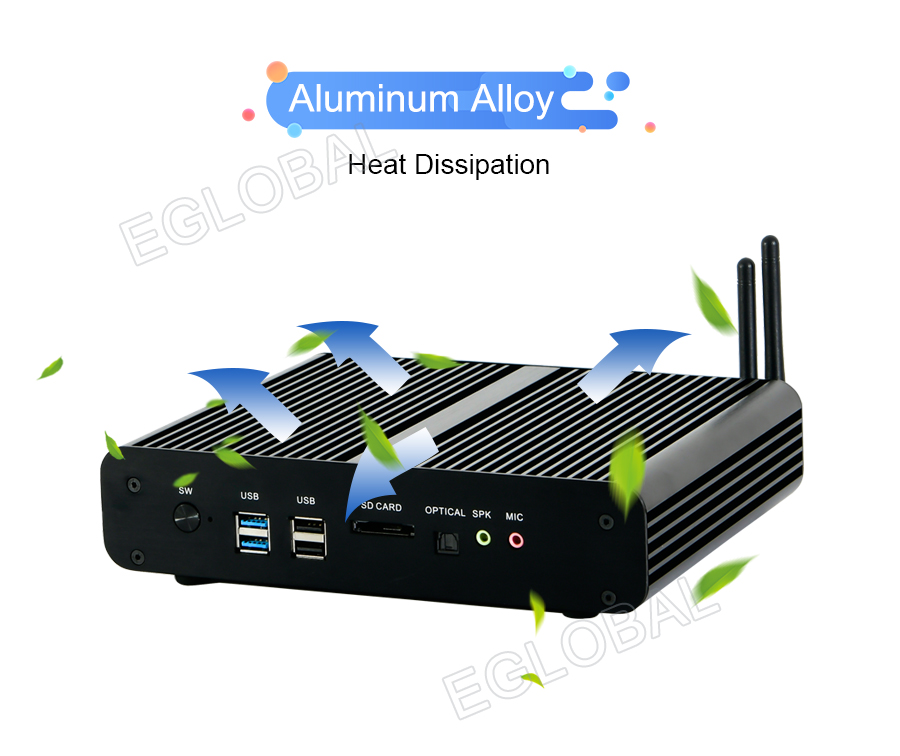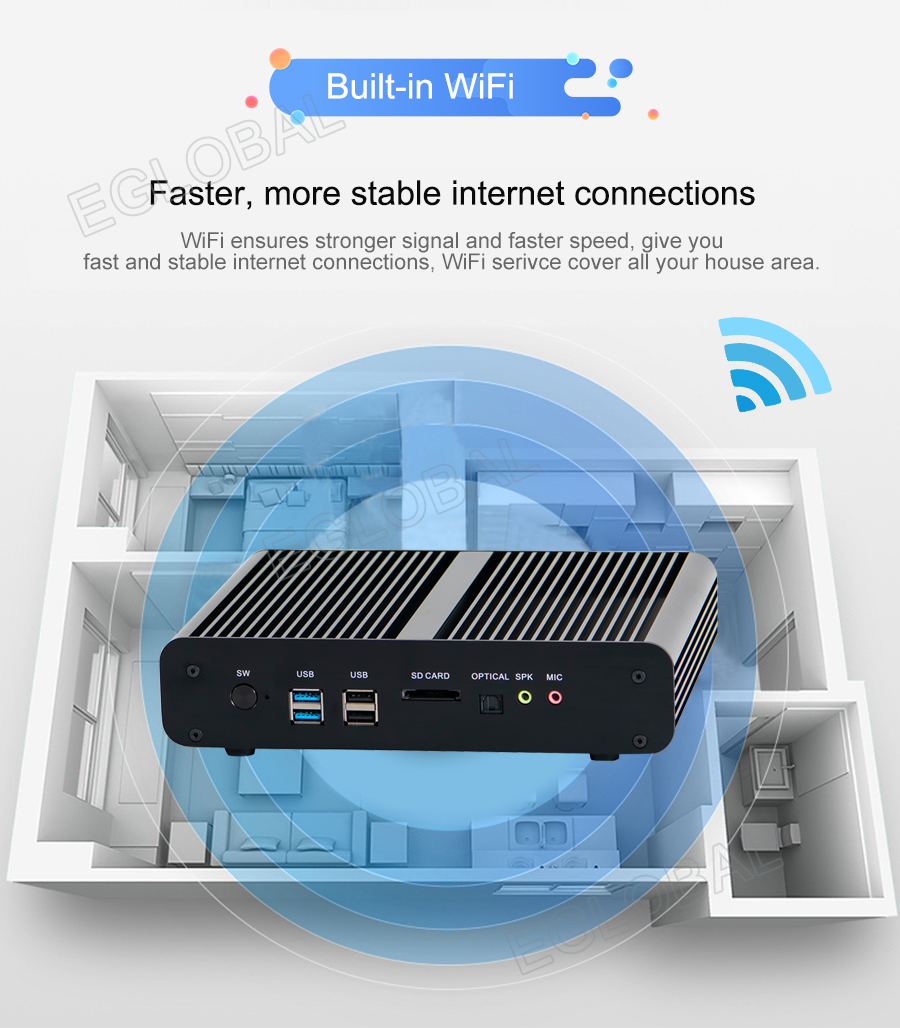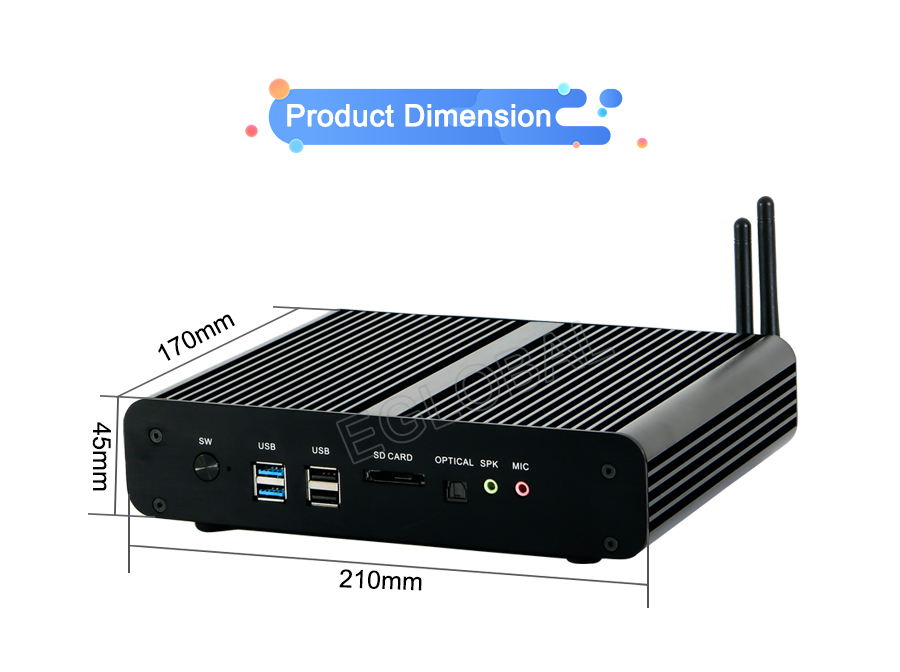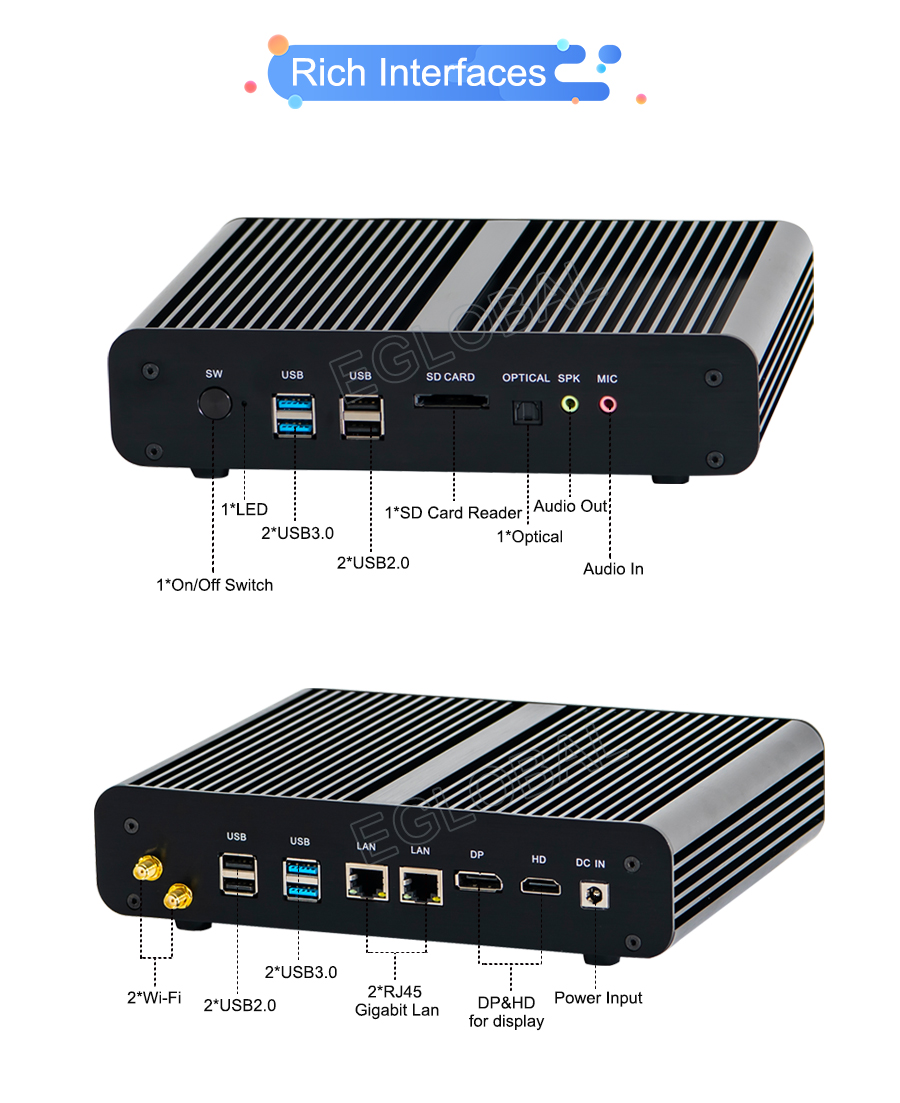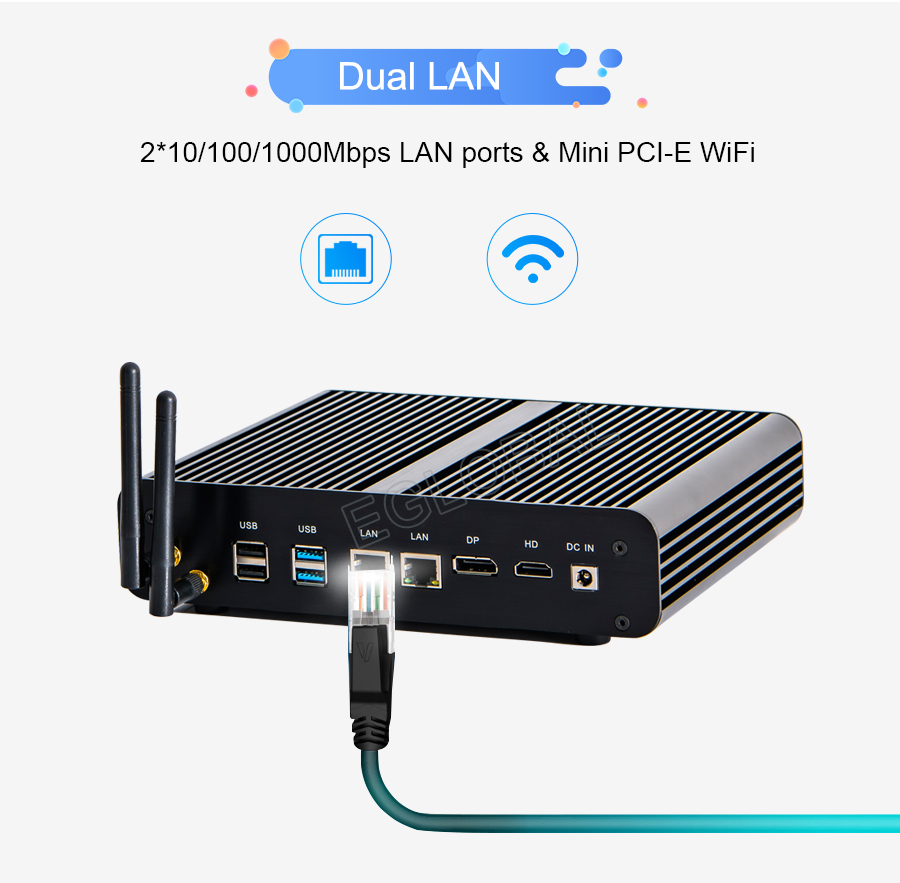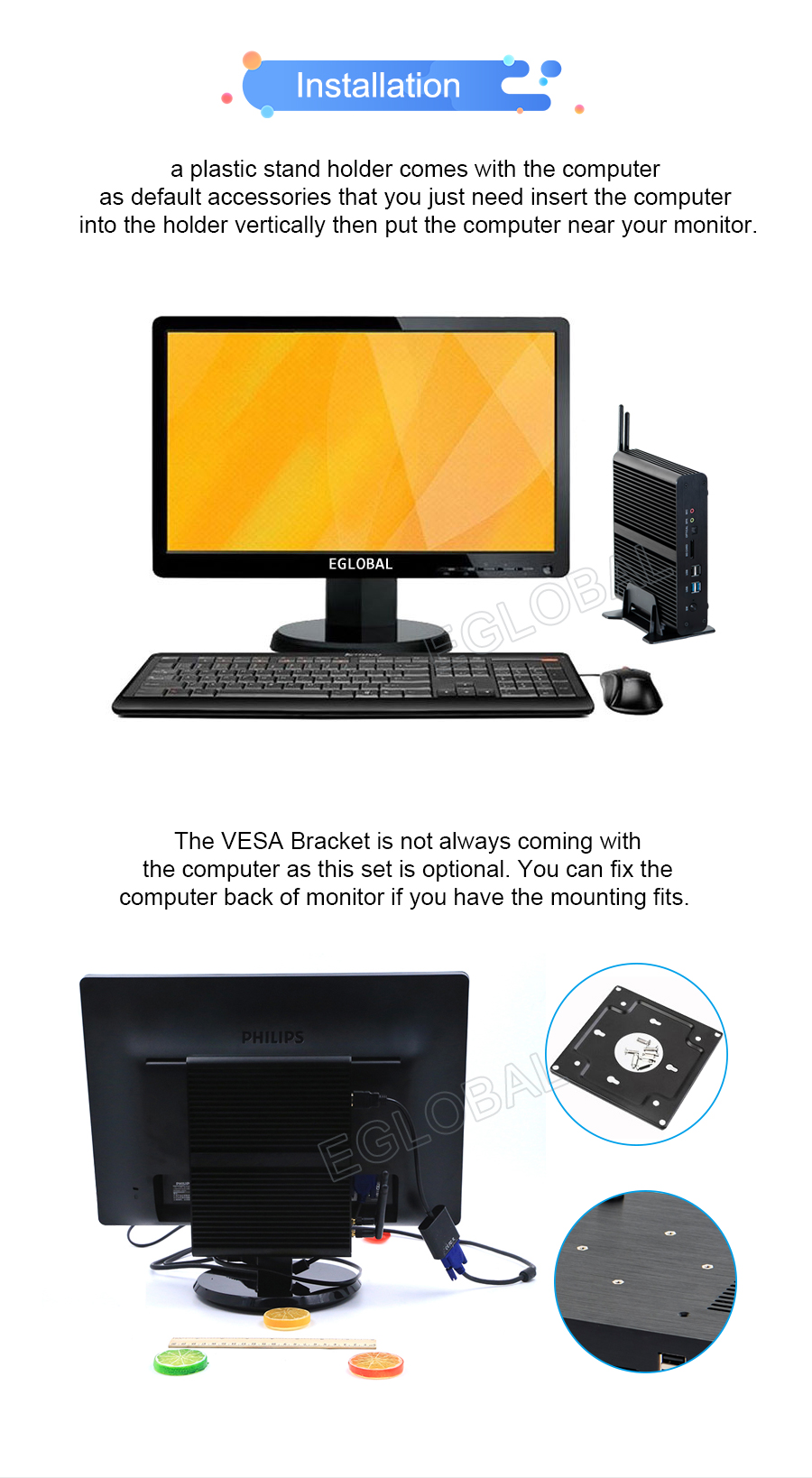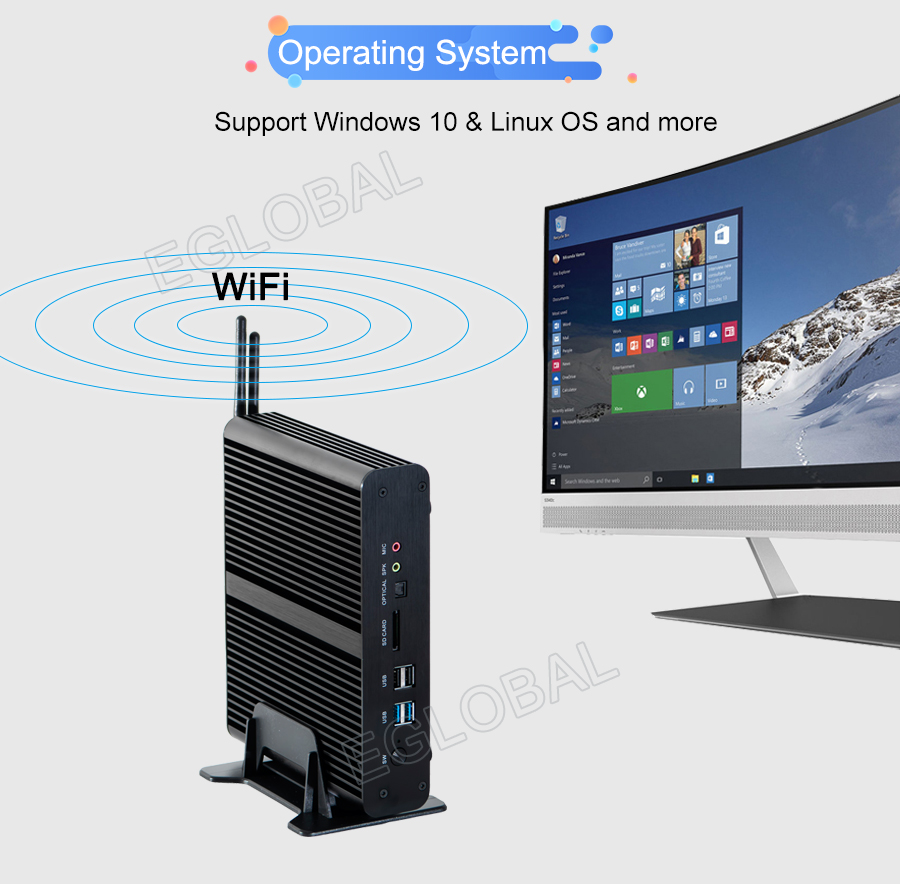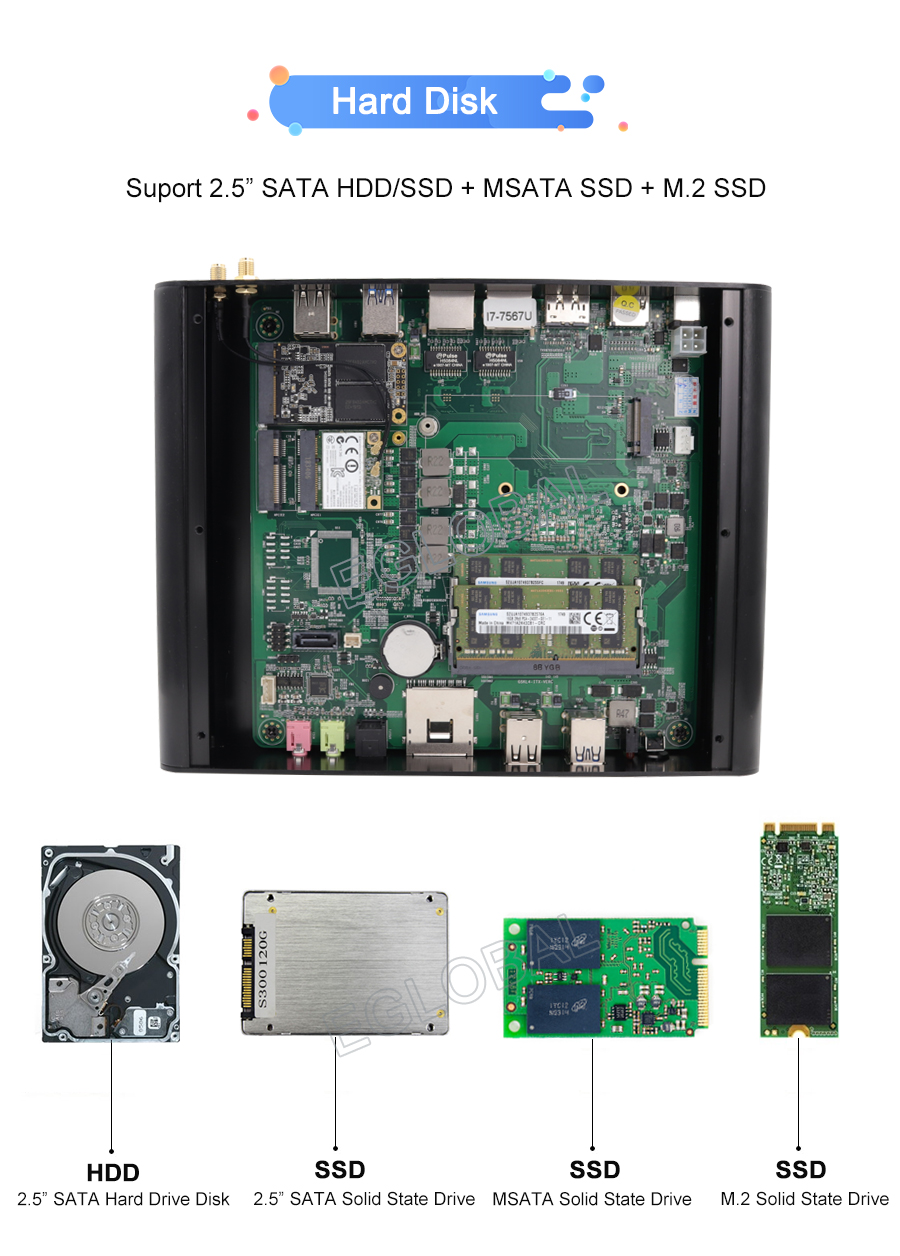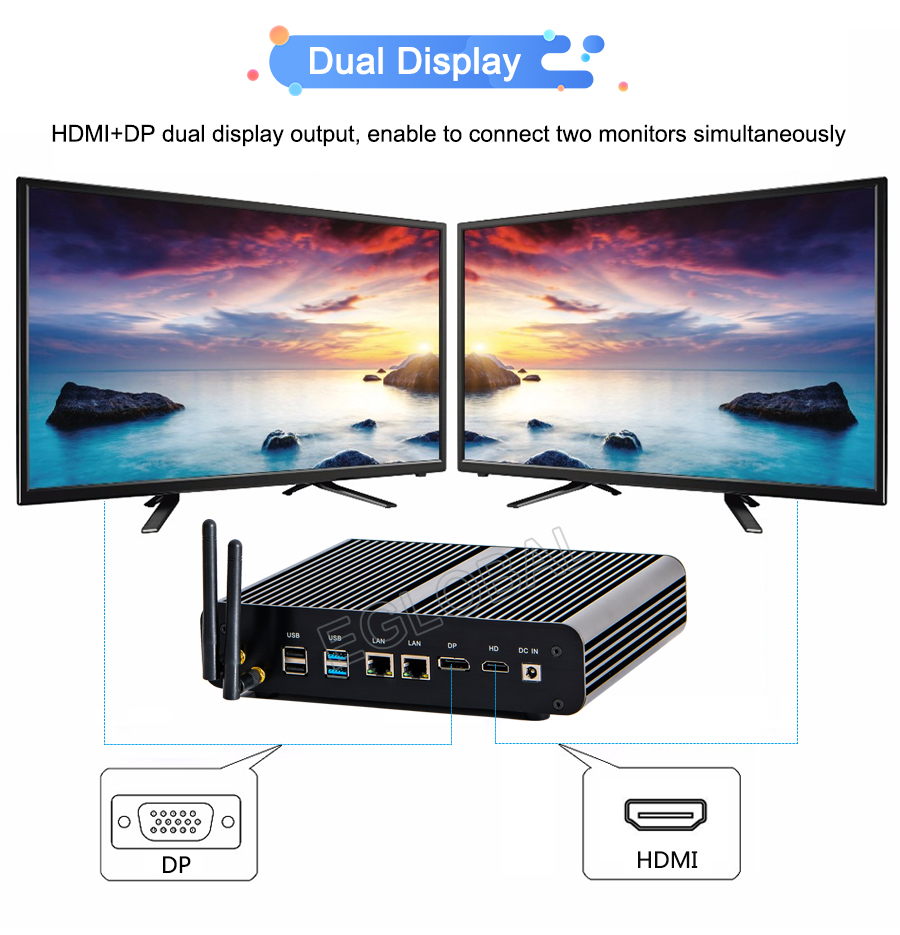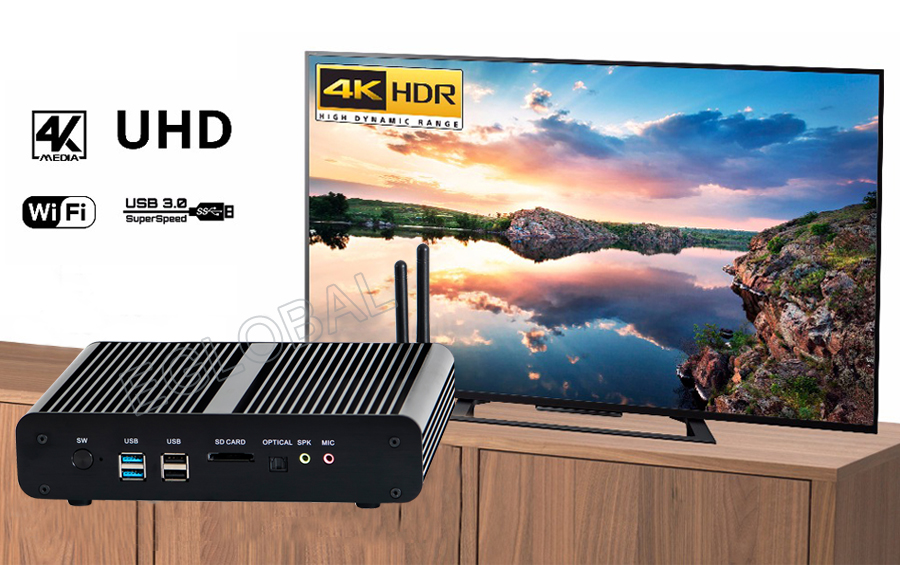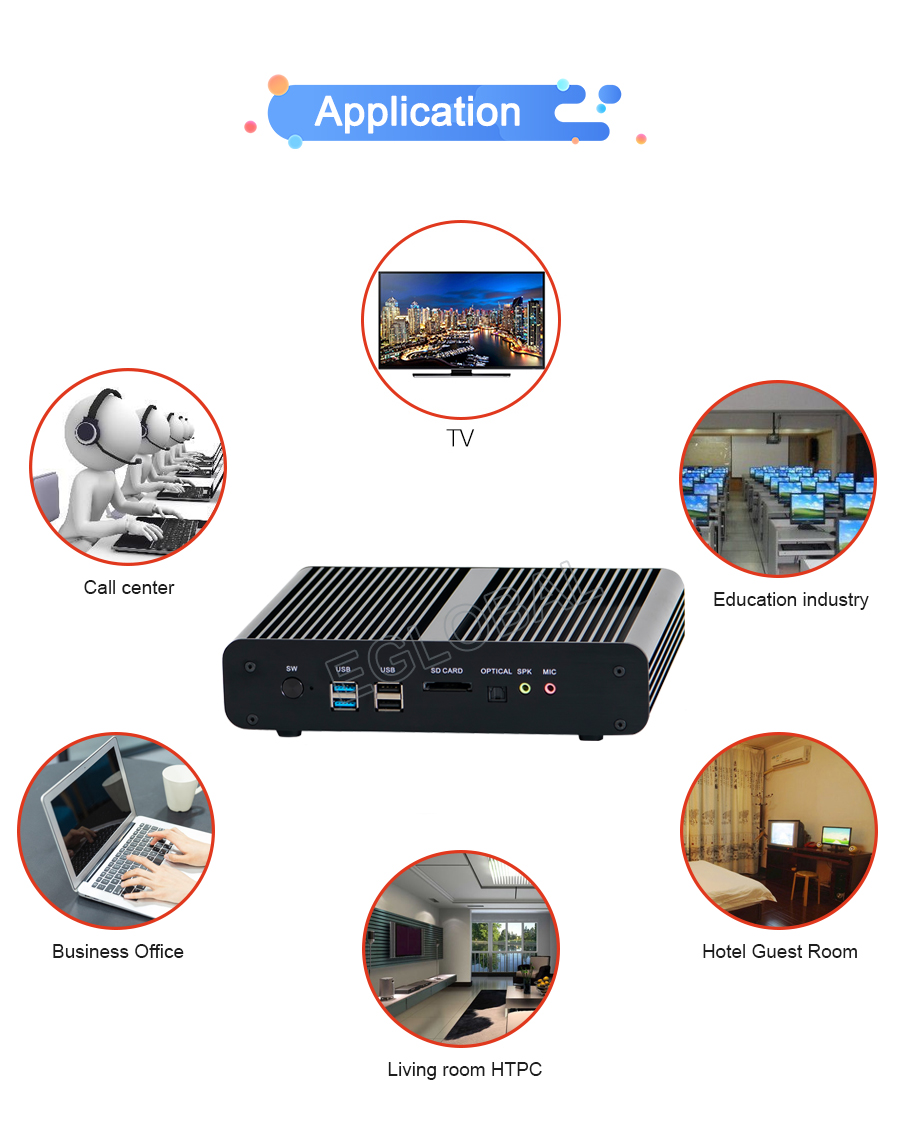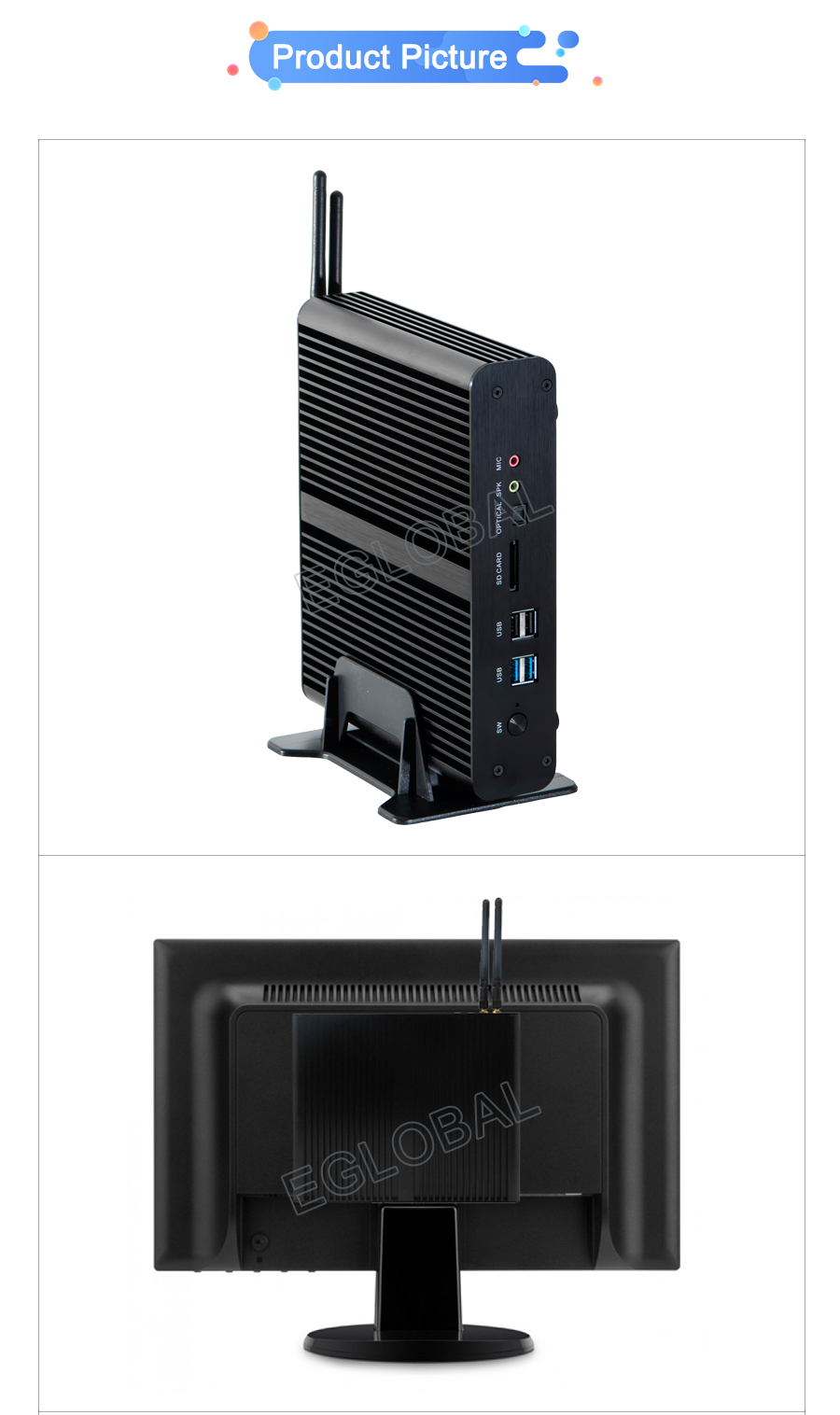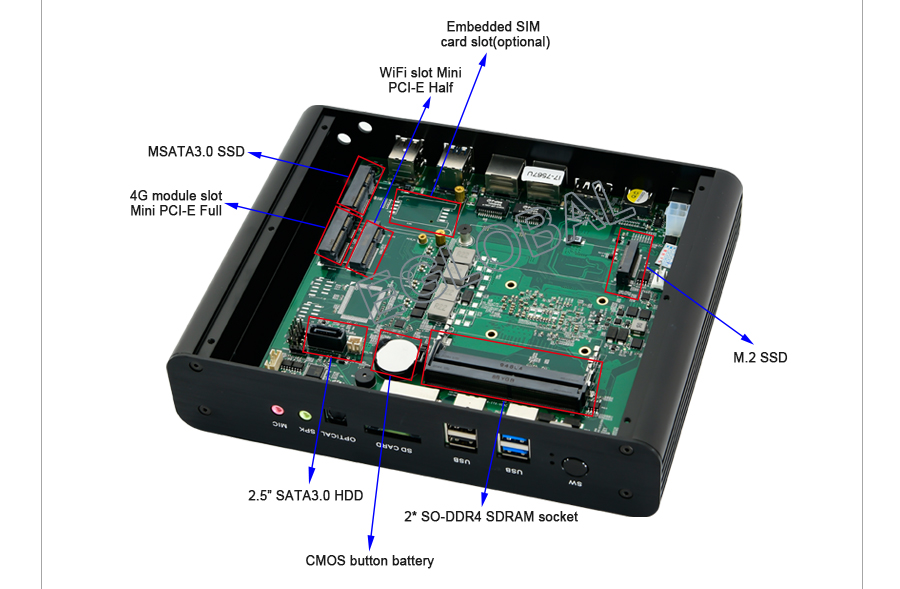 EGLOBAL Mini Computer Fanless Noiseless Mini PC i7-7560U 2 DDR4 Msata M.2 SSD Micro PC Win10 Pro Audio-video Center NUC VGA HDMI
Brand: EGLOBAL
Product Code: V7-7560U
Availability: 200
$462.52

$321.21

Ex Tax: $321.21
Related Products